Thirty-year-old mum Veronica felt upset about the size of her breasts for a long time. At the end of last year she finally decided to make her dream come true and she has undergone an augmentation. What was her worry beforehand and what was her experience like? How does she look back at the surgery and recovery period? Read her whole story that she shares with you.
After having 2 children and had breast fed them both, the shape of my breasts has dramatically changed. The choice of bras and underwear suddenly narrowed down as my breasts were 'falling out' of cups. I was embarrassed even in front of my husband, although he was fine. Nobody forced me; it was my own decision to have the operation done. My whole family supported me throughout my whole journey.
When choosing a surgeon, my friend recommended a clinic where she had her own augmentation done few years back.
I was considering an augmentation for some time, maybe for few years already. I think such decision needs to mature; it's for the rest of your life - the better life. I'm now 3 weeks after a surgery. I'm off work at the moment, but going back to work next week.
I was scared of the operation itself. Not because of the pain, but the worry if all will go smoothly without complications. And it was fine at the end. The surgery took about an hour. When I woke up from general anaesthesia, I felt exhausted but excited. The pain was very intense. The doctor warned me before to prepare for painful experience. I must admit, even though I have high pain tolerance and everyone manages postoperative recovery differently, this is nothing you can prepare yourself for.
After a hospital discharge, my family took care of me at home as I wasn't able to do anything. My back and my breasts were very painful. I received a bra after the operation I had to wear all the time, but it was digging into my armpits exactly where the scars were and the material wasn't pleasant either. I was sweating a lot. I'd prefer cotton material so it can drain moisture and soft material I'm used to wear. Seams were running around the whole bra and across nipples. Breasts were swollen, sore and sensitive to touch and those seams were making it even more uncomfortable.
---
PREVIOUS BRA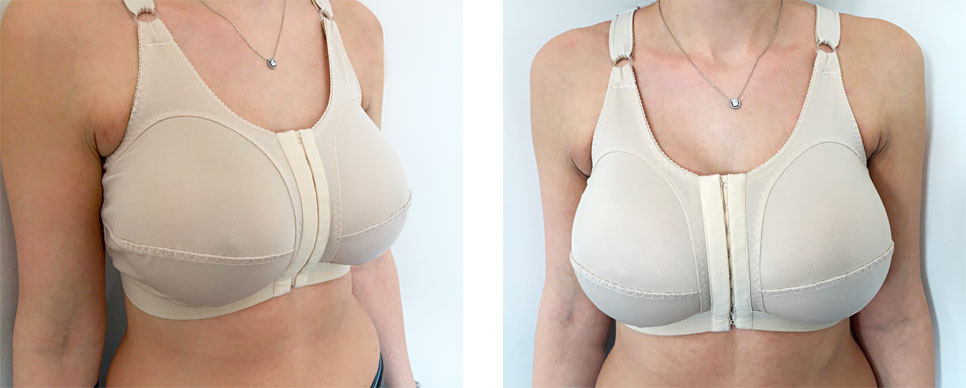 ---
So I started to search for a different bra, seamless and cotton made. After reading so many positive feedbacks about LIPOELASTIC, I found PI special (picture below) that met all my criteria. The website has size chart and a demonstration video how to measure yourself correctly to choose a bra that fits properly and won't dig in. I feel so comfortable in this bra – doesn't dig in, isn't tight, is soft to touch. I also appreciate those 2 extra hooks that help to zip up the bra. ;)
---
LIPOELASTIC PI special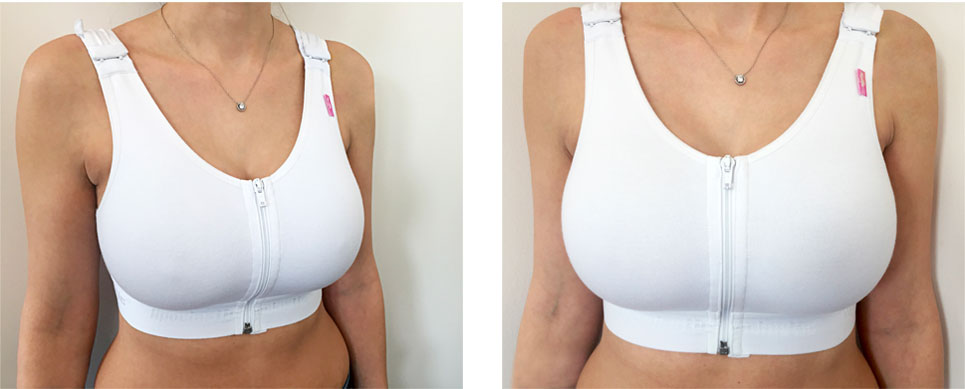 ---
To all women who are considering an augmentation, I recommend to find the right surgeon, that's a foundation I think. Also, pay attention to the comfort of your postoperative bra as you'll be much more sensitive after the surgery than you are now.
---
After the recovery period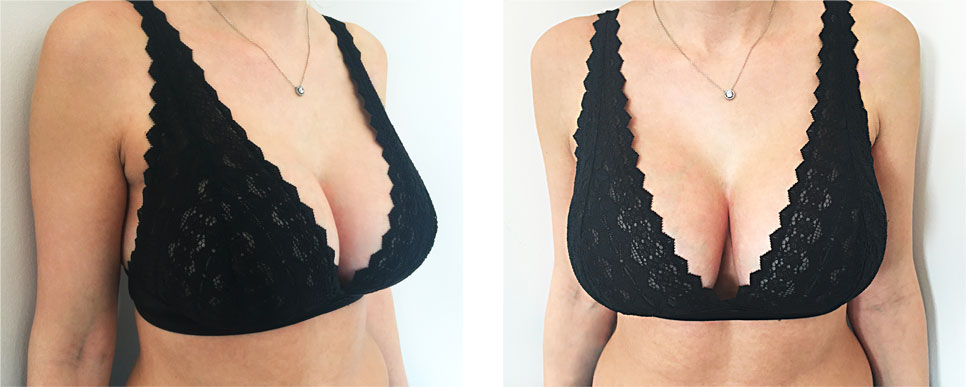 ---
My tip if I'd have an augmentation done again?
There are many steps I'd do same as I did now, but my lesson was to learn that comfortable compression bra affects you physically as well as mentally. So if I were you, I'd find out what compression bra I get after the surgery and I'd do my research.