The belief that leggings are worn only for exercise is no longer true. They have become part of the daily outfit of many of us. And no wonder! Properly selected leggings will make you look slimmer and emphasize your natural contours. Are you one of their lovers too? Let's have a look at how to choose perfectly fitting leggings that will make you feel comfortable all day, and will also suppress the symptoms of cellulite.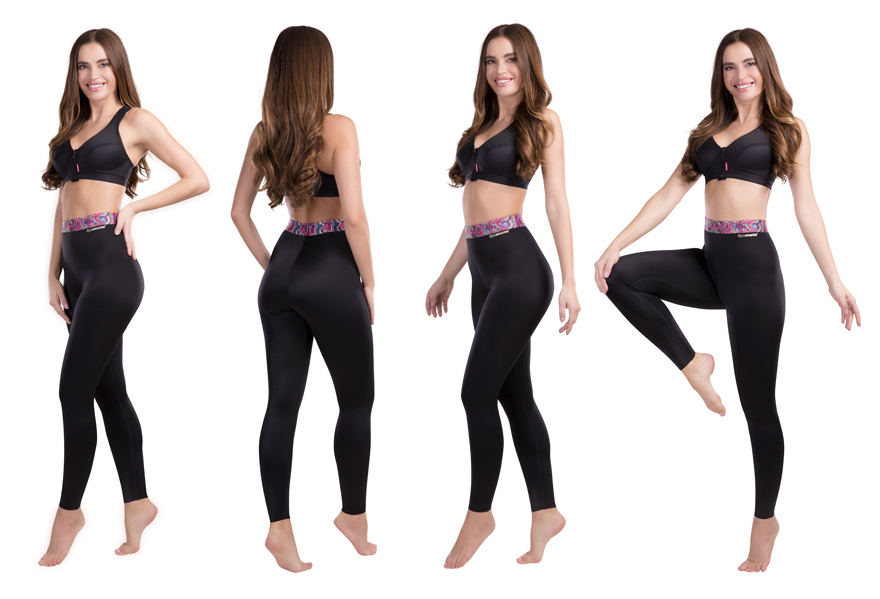 When choosing your leggings, remember that:
1. Compression Is the Key
If you decide to invest in leggings, make sure they are made of compression material. The compressive qualities not only slim your legs beautifully, but also help the lymphatic system to function properly. If you suffer from water retention, swelling or cellulite, compression leggings should not be missing from your wardrobe.
2. Not Everyone Needs to Know the Colour of Your Underwear
If you wear leggings instead of trousers, pay attention to their translucency. Visible underwear is a fashion faux-pas. We recommend opaque and elastic materials.
3. Pilling Is Not Trendy
Does pilling on your leggings bother you? These are small knots that are caused by the wear and tear of clothing. To avoid having to remove your favourite leggings from your wardrobe, choose materials that are sustainable, colour-fast and resistant to pilling.
4. The Quality of the Material Matters
Whether you wear your leggings to the city for coffee, or just for your exercise or training, you should always pay attention to the quality of the material. Clothing containing latex or other harmful substances could cause allergic reactions or a rash on your skin. Therefore, choose certified materials without substances that could cause irritation, and follow the recommended care instructions for compression products.
5. Colourful Leggings Will Soon Bore You
There is no doubt that black is a timeless classic. It is universal, stylish and has a slimming effect. Colourful leggings may well soon bore you. The ideal solution is one-colour black leggings with some discreet elements that will make classic leggings a unique design piece.