LIPOELASTIC garments: Which closure should I choose?
There are three fastening options on LIPOELASTIC compression garments. We would like to introduce them to you, in order to make the process of finding the right one easier for you :
Comfort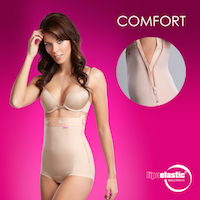 We named this Comfort as this option is very comfortable and for patients easy to put on. Under the zipper closure, there are support hooks every seven cm along the length of the zipper, to make it even easier for you to put on and fasten. The whole length of the fastening is underlain, so it does not dig into the skin and cause additional discomfort. On top of the comfort fastening, there are two support hooks that should be fastened at first, which makes it easier to close additional hooks.

We do recommend this as a first garment immediately after the procedure.

In most product options, the zipper is located on the side of the product, unless it is a vest, where the zipper is at the front.
Variant
We named this Variant as this option is variable and allows patients to adjust size of garment once the swelling subsidies. It has three rows of hooks and eyes and it is up to you to decide which row is the most comfortable.

VH Variant is manufactured with hooks on both sides of the garment, which allows the size to be adjusted by as much as three cm. All other products with the Variant fastening option have hooks and eyes in the front of the garment.

These hooks are underlain, but please check with your surgeon or nurse which body areas will be affected by the procedures.

Our TIP: Whenever an abdominal surgery is also planned, we recommend the special supplement product KPad – this is a belt pad made of special foam to be placed under the garment in abdominal area, ensuring that the closure does not irritate the skin.
Without zippers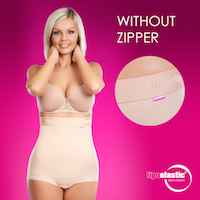 As the name suggests, products without zippers do not have a fastening option. We recommend these products as part of the 2nd post-operative care step, starting from the 5th week. These products are also ideal for use as a shapewear.

For a longer version of the bottom garment, we recommend the additional supplemental product Easy slide aid, which makes it easier to put the garment on.
You can watch our video: