Enlargement of breast tissue, also known as gynecomastia, is a hormonal imbalance affecting more and more men. Surgical removal became a common plastic surgery. Peter (32) has a personal experience and decided to share his feelings with us before and after the operation.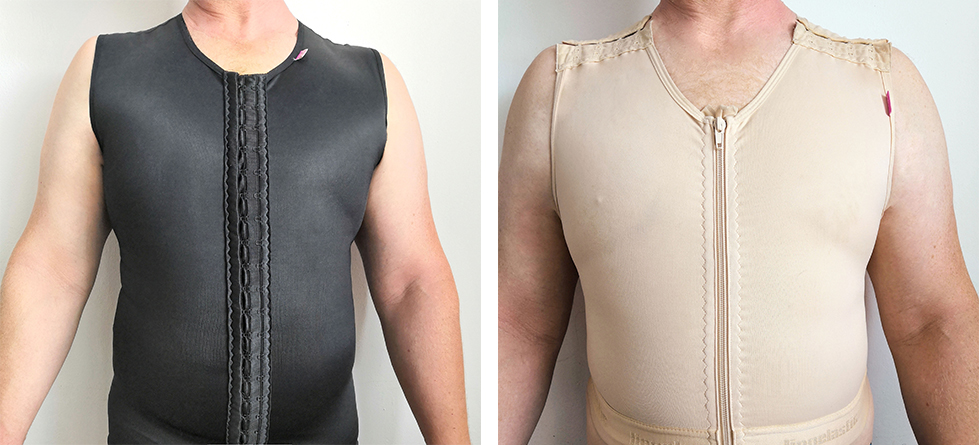 Peter, what symptoms of gynecomastia did you see? Do you know what's caused it?
I have to say, I didn't see any issue for a long time. I had a bad lifestyle, I was overweight and a genetic predisposition took a part as well. I noticed a problem only after I started to lose weight. Even though I lost a lot of weight thanks to exercising, my breasts stayed fat and unsightly.
How did you find what to do about it?
At first, I thought I'll manage it myself by losing more weight. I exercised more and changed lifestyle to a healthy diet. My girlfriend helped me to realise that the problem was swollen breast gland, not fat. She's a personal trainer with good knowledge of physiology and body anatomy and told me that the only solution is an operation.
Who did you talk to about gynecomastia?
I only spoke to my girlfriend at the beginning, I wasn't comfortable about it. But then I found out my friend dealt with the same problem some time ago, so I asked him for advice. I booked myself for a consultation with my doctor who explained all details.
What criteria did you have for choosing a clinic? Was there any worry?
The clinic I chose was on recommendation of my friend who had his gynecomastia done there. I checked reviews and we exchanged few emails with the surgeon. The only slight worry I had was regarding my work absence and also if the result will be up to my expectations. But I was ready for it, so I was more excited than worried.
How long did the operation take? Was it painful?
The surgery took 2 hours, I was under general anaesthesia. My surgeon explained everything before the surgery, so I knew what to expect. We agreed on liposuction, breast gland removal and a breast tissue reconstruction. Surprisingly, I had no pain or discomfort post surgery.
What was your recovery like?
I was wrapped in classic elastic bandage after the surgery. It was fine at first, but then it was digging into my skin and getting very uncomfortable. My girlfriend got involved again and found online a special compression garment designed for men after gynecomastia.
How did you like the compression garment and how long did you use it for?
Compression post-operative vest made my recovery so easy. I could go back to work almost immediately. I wore it longer than recommended period at the end. I felt comfortable and safe wearing the vest. Besides, I liked the compression shaping my waist and I got used to it :)
Are you happy with the final result? Would you do it again?
I am totally satisfied. I can see a difference in the photos before and after. The whole experience helped me with my self-confidence, so I wouldn't hesitate to do it again.
What would you recommend to men with the same problem?
I'd say to all men, who might be related to this issue, not to be afraid and book a consultation with a specialist. It's better to have the surgery earlier rather than later, before gynecomastia grows larger. It's worth the result J
Watch the video with Dr. Kalinova from the Czech Republic and find out more about the gynecomastia problem: