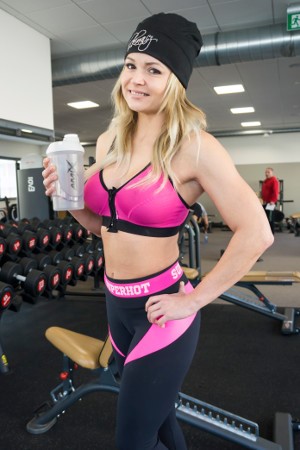 The fitness lifestyle not only includes tanned and muscular bodies, but also a beautiful and full cleavage! Did you join us in watching the journey of fitness competitor Magda Sívková towards a fuller bust?
The decision that led her to seek her second breast enlargement was primarily due to fitness competitions. She has already completed two successful seasons in the category BIKINI fitness.
Magda's wish was to use implants to narrow the gap between her breasts for bikini competitions. Thanks to 450 ml implants, her cleavage looks gorgeous!
She underwent breast enlargement in November last year and so has completed her convalescence and can return to working out at the gym. After the enhancement, however, you must keep your breasts safe even after the healing process ends!
For fitness training, Magda uses the PI unique compression bra available from LIPOELASTIC, which we recommend for follow-up care after the first phase – during this period, Magda used the PI special compression bra.
The PI unique bra should be worn for five weeks following the first phase. Women who play sports, however, value the PI unique bra even after their convalescence comes to an end!
With its ACTIVE DRY special modification, the PI unique allows airflow, prevents moisture from accumulating, and is therefore perfect for using as a sports bra after the completion of the necessary post-operative care! But unlike traditional sports bras, the PI unique stabilizes your implants and so keeps your cleavage completely safe while you do sports!
"I changed my PI unique bra for the PI special post-operative bra. Finally, I could show off my new bust in the gym! The cut of the bra beautifully highlights my feminine curves and allows me to wear a shirt with a plunging neckline. It pushes my breasts together perfectly. Zipping up in the front is not only comfortable, but also makes a nice design feature of the bra. The material is nice, the bra carries itself. I love all three colors it comes in! Pi unique is truly tailored for sports, the seams don't cut into you, your breasts don't bounce in it, and it is, moreover, safe," says Magda of the PI unique bra.
We wish Magda much success in the coming 2017 spring season.